In the past years I have given different kinds of small gifts to my regulars as a special "thank you" beyond the usual holiday greeting card.
This year I put together the Happy FootDays sampler. I found small holiday gift bags at the craft store and filled them with
Michelle Kluck's Little Book of Reflexology
, a Giovanni's Recharge Peppermint moist wipe, a small tube of foot cream and a miniature candy cane.
Here's some pictures (minus the candy canes)...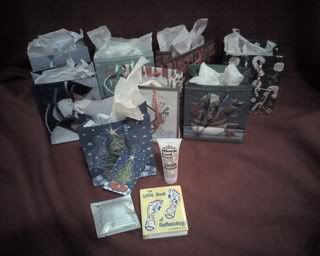 You can find the topic of Christmas gifts for clients under the main Business and Marketing section but since this gift is specifically for clients of Reflexology I wanted to post it here too.