Sharing pictures is fun, and easier than you think!
All you need is a picture, a place to store it on-line, and the right address for it to show up in your posting.
There's a tag in your messaging section to do it. Second button in from the right (Img).
Click that twice, and you will get two sets of brackets with "IMG" in one and "/IMG" in the other, appearing in your Message box.
This tells the board that you want to post an image.
Try that in your message box, it won't hurt anything. You can backspace it out or hit reset.
Between those sets of brackets, The board will be looking for an address of a picture stored on the net. That address is called a URL. It usually starts with "http://" with the name of the storage space, your account, and the name of your picture.
Here's an example of what this would look like:

If you type this in your (PM) message box, exactly as it appears above, you will get this picture: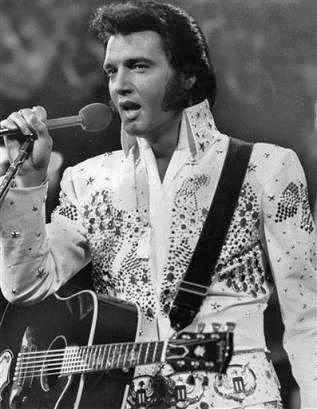 Try this in your messaging box. Type the address as it appears. Hit "Preview". The picture should appear in a box above your message. In fact, if you hit "Send Message" the picture would appear in the PM of anyone you sent it too.
So let's give this a try:
1. Open Windows Explorer. Click on "My Documents"
It should show whatever you already have in there.
2. Now Click on "File" on the top Task Bar.
A drop box should appear below it. Click on "New"
3. Clicking on "New" will give you another box of choices. Click on "Folder."
4. RIGHT CLICK on the New Folder that appears.
A box will show up with choices. Choose "Rename."
5. Backspace over the highlighted words "New Folder." Type in "MASSAGE"
Now that you have your folder, let's put something in it. How about that Elvis picture, just to learn how?
When you have the knack of it, you can delete the pic from where ever you have it stored, on your computer, and on-line storage.
You don't want the picture that you are sharing to be too big, that is usually too hard to view without scrolling around. So Elvis should work for a practice picture.
Ready? Scroll to where you can see the picture clearly, then RIGHT CLICK. You will see a box come up.
1. Choose "SAVE PICTURE AS"
2. A box will come up with a window that shows your folders. Chose "My Documents" and scroll till you see the folder you made called "MASSAGE"
If you look in the slotted line beneath that box, it will just say "elvis"
3. Hit "Save" and "elvis" will go into that folder. Open Windows Explorer if you want to check. Find the folder MASSAGE" in My Documents and open it.
It should have "elvis.jpg" listed inside.
Now lets go on to Part II.
There you will learn how to use on-line storage and share with your world, the Wonder of You